Our Pastor
Founder and Director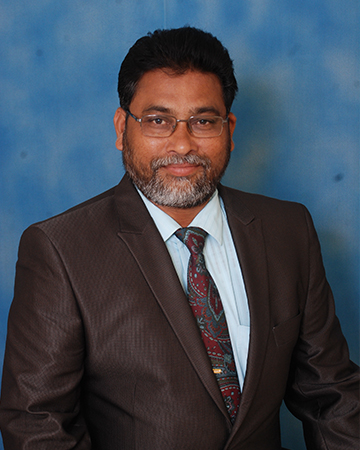 Rev. Premadas Nallagatla was born in a remote village named "Anumullanka" to the late "Bhushanam Nallagatla" and "Leela Bayamma Nallagatla". Although he was raised in a preacher's home, it wasn't until 10th June 1986, that Rev.Premadas came to Christ personally as a 19-year-old young man. He was their youngest of five children. He was brought up in a Christian family. As a child, he led a nominal Christian life. Besides participating in the family prayers, he was addicted to so many bad habits. In his own words, he was a smoker and an alcoholic. He set his heart on earthly pleasures. Eventually, he developed a radical mentality. In his student life, he was a leader in Progressive Democratic Student's Union (PDSU). As a worldly student leader, he just passed the time by simply roaming on the roads, mocking and jeering Pastors. His beloved Parents wept daily before the feet of Christ for the conversion of their dear son. As a result of his sinful life, he destroyed his health and was remained in utter despondency looking for contentment in life.
One night, Christ spoke to Premadas through the book of Ezekiel 2:1-2. "And he said unto me, son of man, stand upon thy feet, and I will speak unto thee. And the spirit entered into me when he spoke unto me, and set me upon my feet, that I heard him that spoke unto me". That very night, Rev.Premadas gave his life to Jesus Christ. God miraculously intervened into his life and healed him completely. By the Grace of our Redeemer, Rev.Premadas was baptized on 10th June 1986. When Pastor recalls his salvation experience, he often enthusiastically will share that he was "GLORIOUSLY SAVED". From the day one of his conversion, Premadas's heart began to sense a burden to pursue God's calling and purpose for his life. Rev.Premadas used to have an unquenching thirst for the conversion of souls and prayed earnestly to God to bring a great revival in his region.
Rev.Premadas earned C.Th (Certificate of Theology) and G.Th (Graduate of Theology) from Hindustan Bible Institute, B.Th (Bachelor of Theology) and BD or BDiv (Bachelor of Divinity) from Andhra Christian Theological College.
Turning down all his vocations, he along with his wife started their journey to a village named "Mulakalapally" in 1994. They started doing ministry among interior tribal villages. God blessed their ministry and presently they have 11 different congregations in 11 different villages, 8 out of them are among tribal people and 3 are among Hindu people. In 2006, the Lord led Pastor Premadas to start a brand new church in "Palvancha". Having experienced so much of God's marvelous grace in his life, he thought it appropriate to name the church "Amazing Grace Baptist Church". From that day until this, the miraculous growth and the impact of Amazing Grace Baptist Church and the vision and leadership of Pastor Premadas has truly been a blessing to our church family, and many others around the nation.
Rev.Premadas has a didactic approach to the teaching of God's word and presents it with unrestricted passion and energy. He has a high regard for the Bible and conveys its truth by explicating a few verses at a time. His intention is to present an accurate picture of the sinfulness of man before a holy and righteous God. People need the truth that comes straight from God so they can understand their own depravity and their need for the life saving, soul cleansing salvation that is only offered through God's Son, Jesus Christ. Pastor Premadas's messages are complete "meals" for spiritual appetites to feast upon. Our Pastor has a heartbeat and passion to strengthen families, marriages, young people and individuals.
Pastor Premadas joined in Holy Matrimony to Suvartha in 1994. They were blessed with three children, Subhushan, Sucharitha and Surekha.
Our Pastor Details
Our pastor Rev. PERMADAS NALLAGATLA has an amazing experience in serving the humanity and spirituality. He is a beacon in our movement and is always dedicated to working in God's way.
Name
:
Rev. PREMADAS NALLAGATLA
Age
:
46 Years
Qualification, Experience & Institute
:

C.th One year Hindustan Bible Institute & College, Chennai, Tamilnadu. One – year practical work at Tippakayalapadu Vil., West Godavari District, A.P. 1986-88.
Hindustan Bible Institute
Gth – One year – Hindustan Bible Institute & College, Chennai. One year practical work at Krishnapuram village, Ananthapur district, A.P. 1988-90.
Andhra Christian Theological
B.th – three years – Andhra Christian Theological College, Hyderabad. – One year practical work at Ravinoothala village, Khammam district., A.P. 1991-94. Dr. William Cary Serampore University, West Bengal.
Christian Theological
B.D. – Two years – Andhra Christian Theological College, Hyderabad, A.P. 2002-04. Dr. William Cary Serampore University, West Bengal.
University, Hyderabad
M.A., Philosophy Osmania

Service
:
Working as a Pastor and Evangelist since 1994 in a Tribal area of Bhadradri kothagudem district, TELANGANA STATE. established 15 congregations among Tribals, Established 5 congregations among non-tribals (Hindu community)